---
Contact
---
Foshan Nanhai FuFeng Electric Equipment Factory
Add.:
No.3 Plant, Shatang, Dabu West Village, Lishui Town, Nanhai District, Foshan City, Guangdong Province, China
Contact Person:
Tongly
Tel.:
+86-13620325551
Email:
cn-abada@outlook.com
Fax:
+86-757-81091189
Whatsapp:
+86 13620325551
Wechat:
+86 13620325551
Heated Plate and Dish Dispenser
Heated dish dispenser is used to keep food dishes warm while in transport usually from the kitchen to the dining room. Our heated dish dispenser comes into single stack and two tube types, which are all made of 201 stainless steel. We also provide heated dish warmers made of 430 or 304 stainless steel if required.

FPW-1 Heated Plate and Dish Dispenser
| | |
| --- | --- |
| Model | FPW-1 |
| Dimensions (mm) | 450x500x920 |
| Power (kw) | 0.4 |
| Voltage ( V/50Hz) | 220-240 |
| Net Weight (kg) | 31 |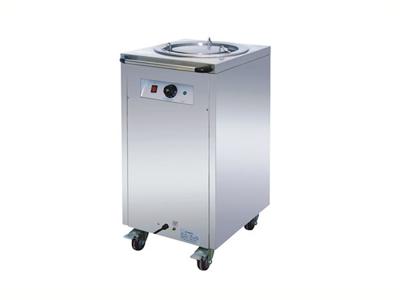 Inquiry

FPW-2 Heated Plate and Dish Dispenser
| | |
| --- | --- |
| Modelo | FPW-2 |
| Dimensiones (mm) | 450x900x920 |
| Potencia (kw) | 0.8 |
| Voltaje ( V/50Hz) | 220-240 |
| Peso neto (kg) | 48 |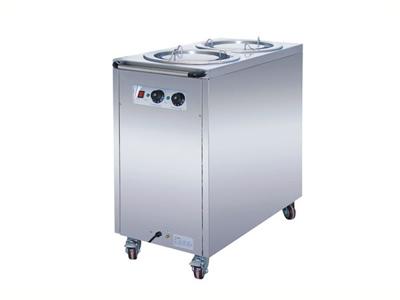 Inquiry

Generally, every tube in our heated dish dispenser is capable of holding about 75 dishes with diameter ranging from 8 to 12mm. Two-tube design enables the warmer to load two stacks of dishes and requires fewer refill, thus significantly improving thermal efficiency. Six groups of springs are installed in the interior chamber of the tube and each group consists of six strong springs. In this way, the dispenser is able to rise or lower porcelain dishes inside steadily no matter what size of the dishes is. Furthermore, insulation device is equipped in the chamber to enhance thermal efficiency as well.

The tube walls are fully enclosed, which ensures optimum sanitation. Therefore, the heated dish dispenser can work under various circumstances without worrying about sanitation problems. It also comes with durable casters for easy transportation. Moreover, the casters are designed with brakes to further ensure stability during transportation.

For energy conservation, we make use of electricity to heat the dishes in the dish dispenser, and then the dishes will be kept warm properly by an electric-controlled temperature system in the dispenser. As a result, the dishes will be free from damage caused by over-high temperature. The adjustable temperature range is from 0 to 70 degrees Centigrade.

With all merits mentioned above, our heated dish dispenser is widely applied in hotels and fast food chains.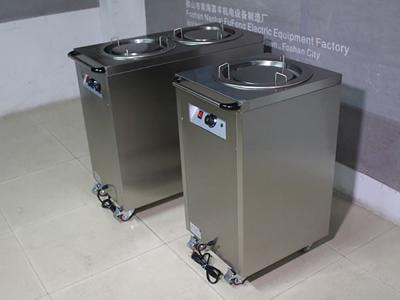 Single stack heated dish dispenser and two tube heated dish dispenser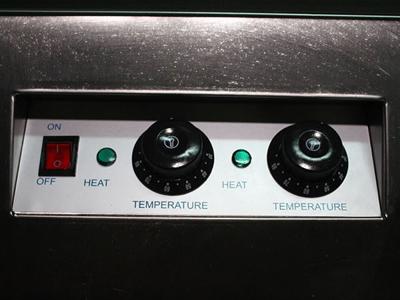 The first button is power switch, the two round buttons are respectively used to set the temperature of two heating tubes.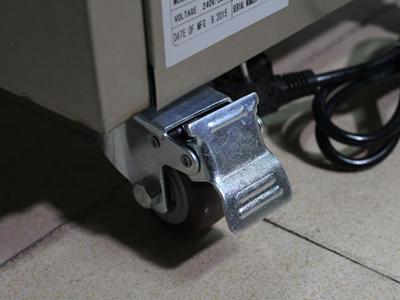 Casters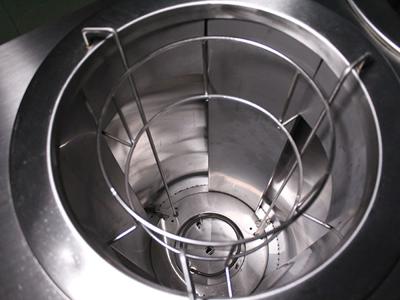 Inner chamber of the tube